2017
Saus Is The Centre's Highest Flier!
Saus, our male Chilean Eagle, has recently broken the Centre's record of the highest flying bird. Lulu, our female Chilean Eagle was originally holding the record of 1968ft (600m), but on 22nd April Saus beat this by a whole foot! The next day though, he smashed this record, by climbing to 2105 ft (642m).
Excellent Easter!
We hope you had a lovely Easter weekend. We were very busy at the centre, where the birds flew very well. We also took a small team of birds to Cotswold Wildlife Park, where we had bird of prey encounters and flew some (inluding Roz, pictured) on display. Whilst there, we raised hundreds of pounds to go to the International Vulture Programme.
Vulture Talk a Success!
On Saturday 4th March, we held a talk on African Vultures, where Kellie spoke about the work she did with wild vultures in Africa and the problems they are facing.
The evening was a great success, with money being raised for the International Vulture Programme.
Read more ...
Kellie's African Vulture Trip
We still have some tickets available for the 'friends of Cotswold Falconry' vulture talk on Saturday 4th March and would like to invite members of the public to attend.
Hear about Kellie's experiences while she was in South Africa, working with wild, critically endangered vultures.
Read more ...
Centre is now open!
Cotswold Falconry is now open for the 2017 season. There will be flying displays running throughout the day, at 11:30, 1:30 and 3:00. We look forward to seeing you!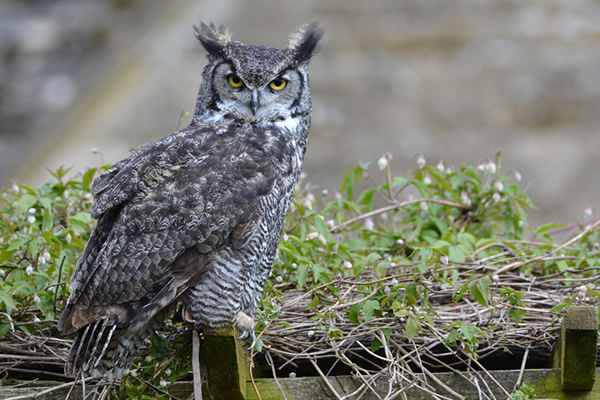 2017 Owl Evening Dates are now available to book
What makes an Owl so special? The evening is designed to allow you to get even closer to these wonderful birds and find out more about them.
Read more ...
Centre's oldest bird has sadly died
A bit of sad news to report. We put the adult male Bateleur Eagle to sleep just after Christmas. He was a very old bird, being at least 43 years old and had been at the centre since the first year we opened. Despite our and veterinary efforts, his leg joints just didn't enable him to have the life he had previously enjoyed.