2017
Hatching Time at CFC!
Bird numbers are increasing at the centre on a daily basis at the moment, as several eggs are now starting to hatch. The Common Buzzards and Ferruginous Hawks have hatched, as well as several species of owl, including the Barred Owl, which we photographed as it was having an identification ring put on it's leg.
Hand-Rearing a Brown Wood Owl
Most of the chicks here at the centre are raised by their parents, with little or no help from us. However, the Brown Wood Owl chick is being hand reared. This is because it's parents are being foster parents to wild Tawny Owl chicks. Members of the public often find tawny owl chicks on the ground and pick them up and bring them to wildlife centres. Most of the time the chicks would be fine where they are, as they can hop up through the branches and mum and dad will be close by, but some may be in more danger, close to busy roads etc. We would like these chicks to eventually be soft-released back into the wild, so to prevent them imprinting on us, we allow foster parents to raise them. The hand reared Brown Wood Owl will then be able to join another collection as a display owl.
CFC Supporting the RAF Falcons
Recently, Kellie took two falcons to RAF Brize Norton, to support the RAF Falcons Parachute Display Team on their launch day. This was their first public parachute display to start the 2017 season and they invited local schools to watch. Unfortunately, the windy conditions meant that they were unable to jump, but children were able to hold the falcons and watch as the C17 aircraft flew past.
First Chicks of 2017
Two Crested Caracara chicks have hatched at the centre, beginning the successful hatching period in this years breeding season. Their parents are doing an excellent job rearing them and they are now big enough to be ringed (pictured). They will hopefully be joining our flying team once they are fully fledged.
Saus Is The Centre's Highest Flier!
Saus, our male Chilean Eagle, has recently broken the Centre's record of the highest flying bird. Lulu, our female Chilean Eagle was originally holding the record of 1968ft (600m), but on 22nd April Saus beat this by a whole foot! The next day though, he smashed this record, by climbing to 2105 ft (642m).
Excellent Easter!
We hope you had a lovely Easter weekend. We were very busy at the centre, where the birds flew very well. We also took a small team of birds to Cotswold Wildlife Park, where we had bird of prey encounters and flew some (inluding Roz, pictured) on display. Whilst there, we raised hundreds of pounds to go to the International Vulture Programme.
Vulture Talk a Success!
On Saturday 4th March, we held a talk on African Vultures, where Kellie spoke about the work she did with wild vultures in Africa and the problems they are facing.
The evening was a great success, with money being raised for the International Vulture Programme.
Read more ...
Kellie's African Vulture Trip
We still have some tickets available for the 'friends of Cotswold Falconry' vulture talk on Saturday 4th March and would like to invite members of the public to attend.
Hear about Kellie's experiences while she was in South Africa, working with wild, critically endangered vultures.
Read more ...
Centre is now open!
Cotswold Falconry is now open for the 2017 season. There will be flying displays running throughout the day, at 11:30, 1:30 and 3:00. We look forward to seeing you!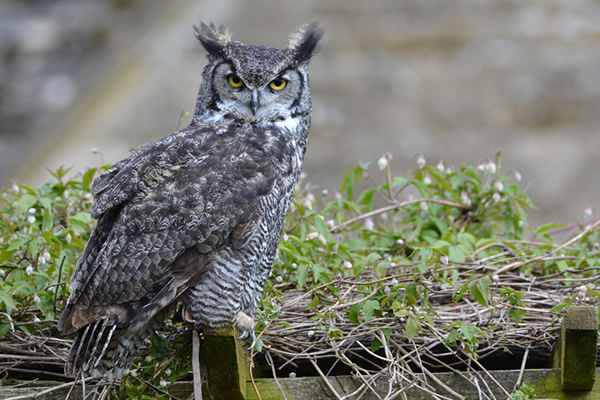 2017 Owl Evening Dates are now available to book
What makes an Owl so special? The evening is designed to allow you to get even closer to these wonderful birds and find out more about them.
Read more ...